The Truth about Farm SPCC Spill Plan Requirements
SPCC Plan Requirements for Farmers
Over the past few years, confusion has reigned about the exact requirements that are applicable to our farmers regarding compliance with the SPCC regulations as related to the Clean Water Act.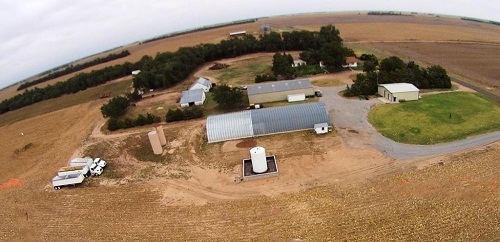 Beginning in 2013, there were several unscrupulous companies that began a dialog that the EPA was about to swoop down on farms and enforce the existing SPCC spill plan regulations that had previously been unnoticed and unenforced for our farmers. No one is more a steward of the land than the US farmers and resulting corrective was instigated by good legislatures.
At that time the regulations stated that any facility that has storage capacity of over 1,320 gallons of oil products must prepare and comply with the SPCC regulations as specified in 40 CFR 112. The initial interpretation of this was represented to the farmers through their various farm organizations and bureau meetings that the EPA was going to initiate an all-out assault on the farmers and even claimed that there would be helicopter surveillance to pinpoint the farms that were in violation of this regulation and impose thousands of dollars of fines on them. We obtained a brochure from a company that had conducted several meetings with Kansas farm groups representing that severe penalties were about to be imposed and the need to expend thousands of dollars in fees to be in compliance with the SPCC spill plan regulations. Since we were providing Petroleum Engineer Certified plans for several hundred dollars verses these huge multi thousand-dollar fees, we contacted the regional EPA SPCC Inspectors and questioned if they now had more astringent requirements on the farmers that were in excess of oil producers and other bulk oil storage facilities.
The answer we received was that the EPA was under sequester and had no funds to go on a witch hunting expedition. They intended to react to any condition or spill occurrence as they had in the past and no new actions were planned towards farmers.
Fortunately, in 2014 the Water Resources Reform and Development Act was signed into law. The Act amended certain applicability provisions of the SPCC rule for farm facilities and modified the criteria under which a farmer could self-certify a plan.
This act originally provided that farms that have an aggregate oil storage capacity of 6,000 gallons or less are no longer subject to SPCC plan requirements. However the regulation was amended on June 30, 2015 to reduce the minimum to 2,500 gallons of aggregate oil storage.
There are various options to bring a farm that stores necessary fuel and oil into SPCC compliance that are not extremely costly to the farmer. Spillco offers solutions based on the amount of oil storage capacity on a farm that is very cost effective and not only complies with the regulations but assists the farmer in protecting the land that he loves.
We are on your side and will guide you through a process that will ease your mind and pocket book. Learn more about how Spillco can help with SPCC Plan requirements for farmers.